Something Old, Something New
Well, our trip to Virginia was a boost to one and all. Mom and Dad have a bit more space in their basement, and a few Virginia merchants have our dollars in their pockets. Oh, and now I get to enjoy the fruits of my rummaging and shopping. What fun lies ahead!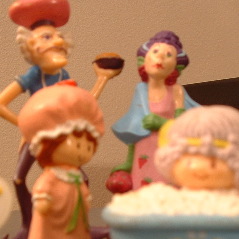 I found my old Strawberry Shortcake figures in my parents' basement. All 48 in an old metal tin. I used to like arranging them behind the sliding doors of my old bedroom hutch. Now, I like arranging them for pictures. They still smell, but all the scents have blended with each other and with the smell of plastic. I think Cinnamon Pie Man contributed the largest portion.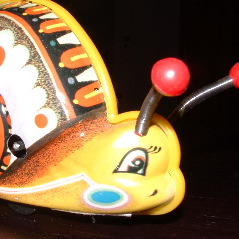 We took a day trip to Monticello and to my Aunt and Uncle's dairy farm. Here's a snail I bought at a "country store" near Monticello to add to my tin wind-up collection. Toy snails are a maturity upgrade from Strawberry Shortcake figures, don't you think? Not really? Fine then.



Dixie Pottery in Abingdon sucked us in on the drive home. I bought four bowls like the one pictured here, a cast iron skillet, some pretty wrapping paper, a necklace, and some earrings. I'm not sure how all these items qualify as pottery, but I guess "Dixie Pile O' Stuff" doesn't sound alluring enough.